Nachos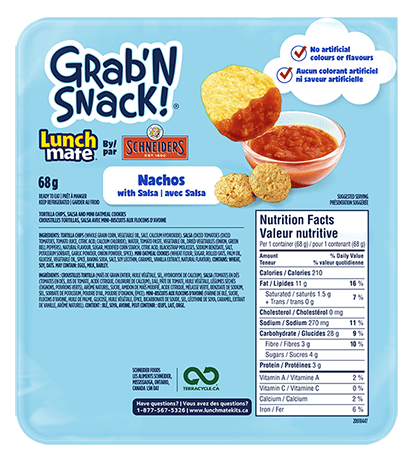 Nutrition Facts
Nachos
No artificial colours or flavours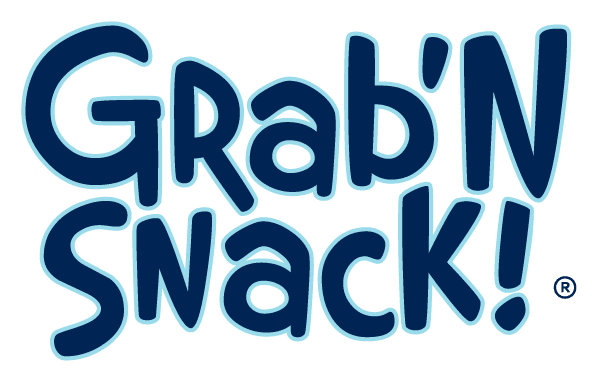 It's like your favourite Nacho lunch kit, but smaller. But watch out, they're only available for limited time in stores.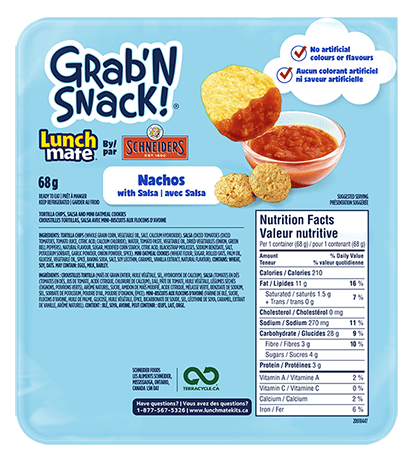 Nutrition Facts
Ingredients: Tortilla Chips (whole grain corn, vegetable oil, salt, calcium hydroxide). Salsa (diced tomatoes (diced tomatoes, tomato juice, citric acid, calcium chloride), water, tomato paste, vegetable oil, dried vegetables (onion, green bell peppers), natural flavour, sugar, modified corn starch, citric acid, blackstrap molasses, sodium benzoate, salt, potassium sorbate, garlic powder, onion powder, spice). Mini Oatmeal Cookies (wheat flour, sugar, rolled oats, palm oil, glucose, vegetable oil, spice, baking soda, salt, soy lecithin, caramel, vanilla extract, natural flavour).
Allergy information: Contains: wheat, soy, oats. May contain: eggs, milk, barley.
Please refer to the package for the most accurate and up to date information as ingredients can change any time.
X